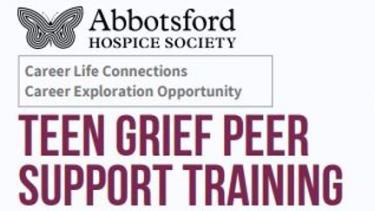 Teen Grief Peer Support Training
The Teen Grief Peer Support Training program has been tailored to provide grade 11 and 12 students with a basic introduction to grief & loss and practical hands-on skills, knowledge, and strategies to provide peer bereavement support to grieving children and teens. This course is experiential and will require participants to share on a personal level. Students will complete 20+ hours of training and 10 hours volunteering in some capacity for AHS. Combined, this 30 hours may be used to satisfy the Career Exploration component of the Career Life Connections course.
Applications are now closed for Fall 2022.  Contact District Coordinator Michelle Myers (michelle.myers@abbyschools.ca) to be notified of a Spring 2023 cohort.
Thurs Oct 13 - students notified of application status
Wed Oct 19 3:30-4:30pm Fall Orientation (in person) at Abbotsford Hospice Society (32780 Marshall Road) for successful candidates
Mon Oct 24 3:30-5:30pm First day of training (in person) at Abbotsford Hospice Society (32780 Marshall Road) for successful candidates
Training dates: Mon Oct 24, Wed Oct 26, Mon Oct 31, Wed Nov 2, Mon Oct 7, Wed Nov 9, Mon Nov 14, Wed Nov 16, Mon Nov 21, Wed Nov 23