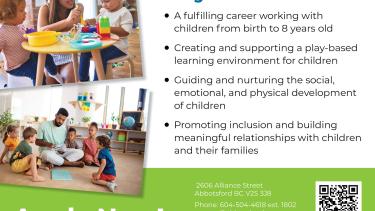 Early Childhood Education (ECE) Pathway
Early Childhood Education Pathway Application
Early Childhood Education Pathway Info Sheet
This Pathway enables students to earn both secondary school graduation credits and post-secondary credit and/or credentials which may be transferrable to additional post-secondary studies and/or credentials.
Duration: Two evenings per week (5pm-8pm), September to April of Grade 12 (UFV Fall and Winter semesters)
Prior to Start of Pathway: Successful completion of all Grade 10 and Grade 11 graduation-required courses; recommended 70% or higher in all academic courses including English Language Arts 11 and Math 11; enrolled in English Language Arts 12 in Semester 1 of Grade 12; must complete ELA 12 with minimum of 67% final mark
Location*: Fall semester at UFV Abbotsford – King Road and Yale Secondary (Abbotsford); Winter Semester at UFV Abbotsford – King Road and Langley Education Centre
Transportation*: Responsibility of student
Equipment & Textbook costs*: Approximately $300
*Subject to change
During the Pathway, students can also apply to the Early Childhood Education Certificate Program at UFV to continue their studies towards an ECE credential after Grade 12 graduation. Upon successful completion of all Pathway courses, students will earn 12 UFV credits that can be used towards fulfilling requirements of the ECE Certificate or ECE Diploma, or another UFV credential program such as Bachelor of Arts – Child and Youth Care or Bachelor of Social Work.  Students should consult a UFV Academic Advisor to plan their future coursework.  Students will also earn 16 Grade 12 elective credits toward Secondary School Graduation (Dogwood Diploma).
If you have any questions about this opportunity, please contact one of the following Career Programs District Helping Teachers:
Michelle Myers (604-615-4561 or michelle.myers@abbyschools.ca)                                                                 
Erika Pearson (erika.pearson@abbyschools.ca)
 
Employment & Career Opportunities
Early Childhood Assistants and Early Childhood Educators can find work in daycares, preschools, nursery schools, special needs centres, public schools, and infant or toddler centres.  To be employed in this field, a criminal record check and proof of immunizations will be required. Career opportunities also exist with community services, governmental organizations, hospitals, and parks and recreation departments.
For more information about this High Opportunity Occupation, click HERE to visit the WorkBC website.
Click HERE to view the Career Trek Video for ECE