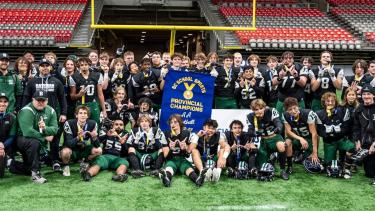 Robert Bateman Timberwolves win AA football provincial title
December 5, 2022
40-38 – for an entire year that score haunted players on the Robert Bateman Timberwolves senior varsity football team. On Dec. 4, 2021, Bateman lost by that score in overtime to the Carson Graham Eagles in the coastal championship game. That crushing loss was all the returning players thought about.
For quarterback Nolan Watrin, he looked at the score every single day. Watrin taped 40-38 to the ceiling above his bed. A day didn't go by where when he went to bed or woke up, opened his eyes and spotted that score.
That loss burned inside him and his teammates and was a major motivating factor in Bateman's 45-14 win over the John Barsby Bulldogs inside BC Place at the AA championship on Saturday (Dec. 3).
"I was looking at that score every single night," he said. "It definitely fueled all the sprints and all the hard work we put in this year. It's still up right now, but it's coming down tonight."
Bateman set the tone early on Saturday, recovering the ball from an onside opening kick-off just six seconds into the game. The offence's opening drive saw the Timberwolves march down field and cap it off with a touchdown by Taejshon Catlin.
The next kick-off was again a short kick and again Bateman recovered the ball and went back to work on offence. Watrin called his own number to put the Timberwolves up 14-0. Bateman attempted another short kick-off but the Bulldogs managed to get possession of the ball. That allowed the Timberwolves defence the chance to shine and they forced a four and out for Barsby.
On the ensuing drive, Watrin connected with Rayne Lang to put Bateman up 21-0. The short kick-off then worked again and the Timberwolves went up 28-0 when Isaac Lynn scored a rushing touchdown. The Bulldogs got on the board late in the first half when Kai Redbour-Bruckman caught a 20-yard pass followed by a successful two-point convert, but Bateman entered the second half up 28-8.
Bateman head coach David Mills, who was behind the bench for championship losses in 2018 and 2021 was at a loss for words following the win.
"This is unbelievable," he said, soaking in the moment with a massive grin. "I knew we had a good team and I saw it as possible last year after the overtime loss. There wasn't a day where somebody didn't write 40-38 on our whiteboard."
Bateman did not lose a single regular season, exhibition or playoff game this year and Mills said he will never forget this group.
"We have a great group of players and coaches," he said. "They all have such great attitudes, very skilled and so big and strong. Everything just seemed to fall into place for us this year."