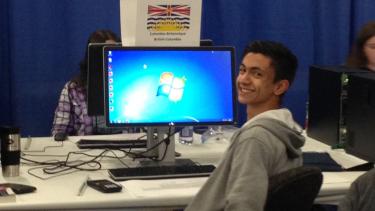 Strong Finish
Featuring Abbotsford Senior Secondary student - Alex Hintz
'Strong Finish' celebrates our growing list of Abbotsford Career Program Students and their commitment to preparing for their future. Visit our website often to learn about the many accomplishments and successes happening in our district.
---
Alex Hintz
Abbotsford Senior Secondary Grad, Alex Hintz, is well on his way to a rewarding career in Architectural Science! Not only did he graduate from ASSS in June, he also crossed the stage at UFV for his successful completion in the Architectural Drafting Technician program. He had a busy Grade 12 year in a rigorous adult learning environment on the UFV's Trades and Technical campus earning both secondary and post-secondary credits.  
Alex's passion was discovered back in grade eight  when he was part of the S.T.T.E.M program led by Mike Howe at Abbotsford Middle School.  Mr. Howe recalls his natural talent, noting, "Even at a young age Alex showed the precision, accuracy and attention to detail necessary for success in Architectural drafting.  He has the powerful combination of quantitative reasoning and creative thinking."  Alex remembers being tasked with his first CAD drawing assignment and from there, he continued to follow his dream of one day owning his own Architectural firm.
In March, Alex entered the Upper Fraser Valley Regional Skills Competition where he competed in Architectural CAD against students from neighboring districts. After earning the regional gold medal, he went on to compete at Provincial Skills and proved to be the best in the province winning the provincial gold! In May, Alex proudly represented Team BC at the National Skills Competion in Saskatoon.
Alex was immediatiely employed and gained valuable experience at Towne Millwork in Abbotsford. In September he moved to Burnaby to attend BCIT's Bachelor of Architectural Science.  Kudos to Alex for his strong finish! 
Former Strong Finish Students
Nick Huebert - Electrical 
Brandon Slooyer - Carpentry